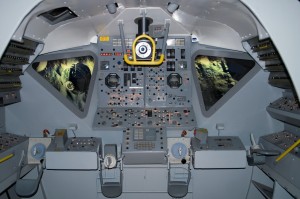 Description
This is a pretty loose project that has been going on for a while. The idea is to make at least 3 hardware panels and the controllers necessary to operate Ron Monsen's Eagle Lander 3D.
So far I've experimented with using switches connected to a keyboard encoder from Hagstrom Electronics, an old Microsoft Sidewinder and a 3dconnexion SpaceNavigator 3D for controlling the simulator with good results.
I just found this piece of hardware online, and it looks really promising since it can output keyboard macros: PoKeys55T
The plan ahead is to get some metal panels CNC'ed from the CAD-drawings I've made of panel 1,2 and 3 (see Files-section) and equip them with switches and if possible; gauges.

Progress so far:
CAD-drawing of panel 1,2 & 3 – DXF-format (drawn with QCAD)
PDF of panel 1 &2 (A0)
PDF of panel 3 (A0)
Here are some  VERY crude pictures from my very first setup using the Hagstrom keyboard encoder connected to a couple of switches.
At least they give an idea of what the project is about, although the full-size panels are almost incomparable in size 🙂